Celebrating 20 years of About Campus
For the past 20 years About Campus has brought student learning to the forefront of higher education and student affairs. To ensure the longevity of this unique publication, an extraordinary group of people came together and built About Campus around the tenets of excellent scholarship, strength in community, and sharing practice for educators everywhere. Twenty years later, we aspire to continue this tradition.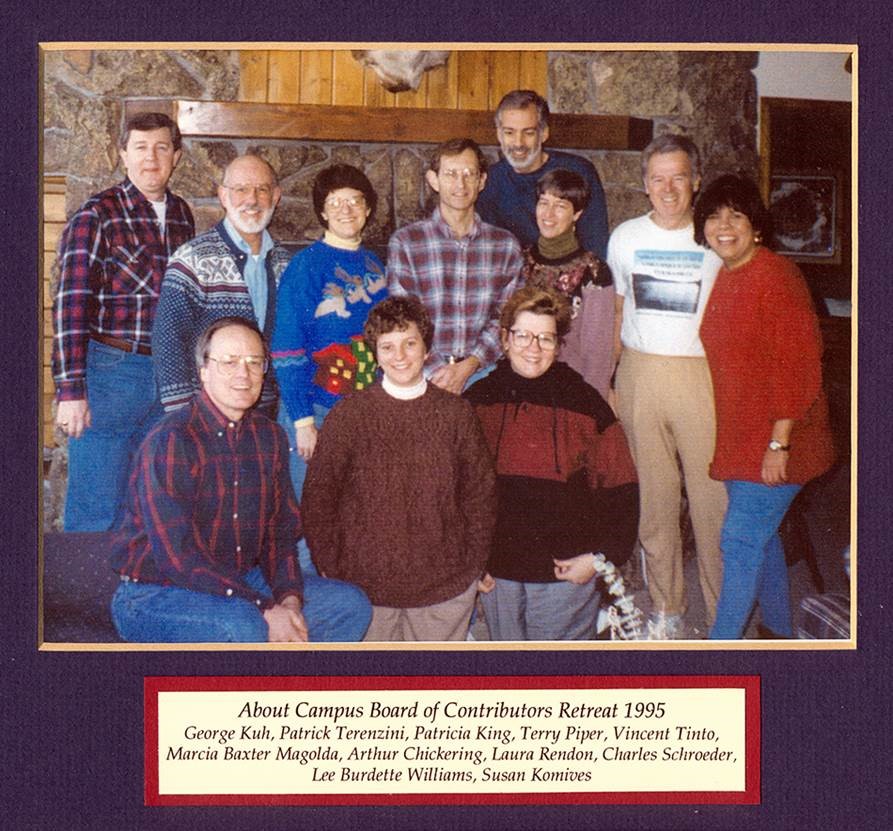 About Campus is a bimonthly publication for educators who want to examine contemporary issues, policies, and practices that influence student learning in higher education. About Campus speaks to a broad audience including college and university administrators, faculty, staff, and educational policy makers.
The articles published in About Campus share important discoveries and insights into what makes a campus environment an effective place for students to learn and what can be done to better support student thriving on our individual and collective campuses.
About Campus is not formatted as an academic journal. The content, while thoroughly grounded in theory, is communicated in accessible language, with emphasis on new knowledge, fresh perspectives, and the practical application of theory in practice. We strive to restore the human element to academic writing and seek the stories of educators who have something to say and a voice to say it with.
The Editorial Team of About Campus is located at the University of Denver. The executive editor, Ryan Evely Gildersleeve serves as the sixth executive editor of About Campus, following in the footsteps of Frank Shushok, Charles Schroeder, Patricia King, Marcia Baxter-Magolda, and Jean Henscheid. About Campus is published in partnership with ACPA—College Student Educators International and Jossey-Bass, a Wiley Brand.
Editorial Team
Executive Editor- Ryan Evely Gildersleeve, University of Denver
Senior Associate Editor- Brenda Sifuentez, Lewis & Clark College
Senior Associate Editor- Eun Jung "Alice" Lee, University of Denver
Associate Editor- Tracy Buenavista, California State University, Northridge
Associate Editor- Ignacio Hernández, California State University, Fresno
Associate Editor- Chris A. Nelson, University of Denver
Associate Editor- Elena Sandoval-Lucero, Front Range Community College
Associate Editor- Kellie M. Dixon, North Carolina A&T
Associate Editor- Lauren Collins, University of Montana
Associate Editor- Amy Blakey, Colorado Mountain College
Associate Editor- Seth Bumgarner, University of Denver
Editorial Assistant- Lauren R. Contreras, University of Denver
Editorial Assistant- Ashley Johnson, University of Denver
Editorial Assistant- Loryn Rumsey, University of Denver
Editorial Assistant- Rehshetta Wells, North Carolina A&T
Board of Contributors
Rozana Carducci
Elon University
Natasha N. Croom
Clemson University
Merrily S. Dunn
University of Georgia
Bryan Hubain
University of Utah
Robert D. Kelly
Union College
Juliette Landphair
University of Mary Washington
Laurie Schreiner
Azusa Pacific University
Eboni M. Zamani-Gallaher
University of Illinois