ABOUT CAMPUS SUBMISSION PROCESS
To ensure prompt review of your manuscript, please check to make sure that your manuscript meets all of the following criteria before you submit it to About Campus.
Formatting Your Submission
Save your manuscript as using your name, a title abbreviation, and the date of submission. Eg. "Mary Simmons_The Mobile Advisor_6.11.2014"
Include page numbers.
Type the manuscript in 12-point Times New Roman font.
Double space and indent your paragraphs.
Do NOT vary font size or style for titles, subheadings, or any special text.
Do not include running headers (this is important, as special formatting can cause problems in e-mail transmission).
Title Page Specifics
Word count (which includes the title, author biographic information, manuscript text, and references). Please put the word count in the top, left-hand corner of the title page.
Title of the manuscript.
Full names, titles, mailing addresses, phone numbers, and e-mail addresses of all authors.
Short bios (40 words or fewer) of all the authors, including current affiliation.
Name of the article type (e.g. In Practice, Feature, etc.).
TITLE PAGE EXAMPLE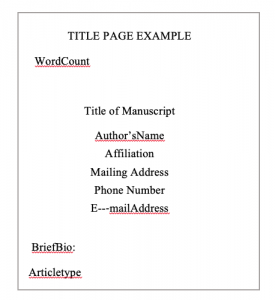 Note: The Editorial Team reserves the right to send back all submissions that do not follow these formatting guidelines.
Submitting a Manuscript
About Campus submissions are managed through an online portal hosted by SAGE. To create an account and submit a manuscript, please visit the following link: http://mc.manuscriptcentral.com/aboutcampus.
The Editorial Process: Working with the Team
Our editorial process is collaborative. We often work with authors at the conceptual stage to identify direction and focus (as well as throughout the writing process through multiple revisions). Our goal is to help cultivate and then publish substantive, engaging articles. You and your co-authors can view the status of your manuscript at any time by checking your Author Center after logging in to http://mc.manuscriptcentral.com/aboutcampus.
About Our Process
The Editorial Team will review and provide feedback on your manuscript. We review manuscripts as quickly as possible. Because the team is small, it may take six to eight weeks for an editor to respond to your manuscript. Editorial Team members and authors will correspond until they agree the manuscript is at a final draft stage; most manuscripts will go through several rounds of revision.
The Editorial Team will notify you when your article has been accepted for publication. Once an article is ready for publication, it becomes a part of our warehouse of articles from which we choose when we put together issues of the magazine.
When an article is slated for a particular issue, we ask authors to sign a copyright transfer agreement (see below) and provide pull quotes. Pull quotes will be highlighted through the publication of the article. Please submit at least 2-3 quotes for every page.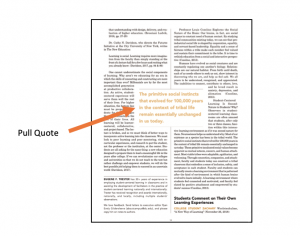 The About Campus editorial assistant will notify you when your article has been slated and will e-mail the copyright transfer agreement to you. It must be signed and returned in order for the article to be published.
The Editorial Team will make necessary changes in the article (including its title) for clarity, length, and conformity to style. You will be sent an edited version of your article for a brief review prior to its publication.
Copyright Transfer Agreement Information
Below are key rights we ask authors to assign to us. Please read this information carefully and make sure you feel comfortable with the rights as outlined. If you have any questions or concerns about this, please contact the Editorial Team at [email protected]
You have supplied an original manuscript for inclusion in an issue of About Campus.
You agree that the manuscript you have furnished is original and prepared especially for About Campus; that it has not been and is not being registered for copyright and/or published elsewhere; and that you will not release it for any purpose prior to publication of About Campus issue in which it is scheduled to appear.
You guarantee that your work does not infringe any copyright, violate any property rights, or contain any scandalous, libelous, or unlawful matter, and you agree to hold the SAGE as Publisher harmless against any claim that may be incurred involving such matters.
You grant the editor and the office of the publisher the right to make changes in the article (including its title) for clarity, brevity, and conformity to style. You will be contacted about your contribution before it is set in type only if substantive changes, which the editor will determine, are made in the editing process. You will not receive proofs; the publisher and editor will be responsible for all proofreading of the article.
You agree that your contribution will be published, copyrighted, and sold by SAGE, Publishers, in its own name or any other name throughout the world, in all forms and editions, including electronic editions. Nonetheless, you may copy or reprint your material provided you obtain prior written approval from and make proper attribution to SAGE.
If, for any reason, the article is not published, you are free to use your manuscript for any purpose you desire.
In appreciation for your contribution to About Campus, SAGE will send you ten (10) complimentary copies of the magazine issue in which your article appears and a complimentary one-year subscription to the magazine. If you prefer, you may use this subscription benefit to introduce a friend or colleague to About Campus by providing an alternate name and mailing address on the form that accompanies this Letter of Agreement.
You will keep the editor informed of any change in your address that may take place between now and your receipt of the materials from SAGE.